Home » history and philosophy of astrology, Video
Egyptian Astrology and The Naos of the Decades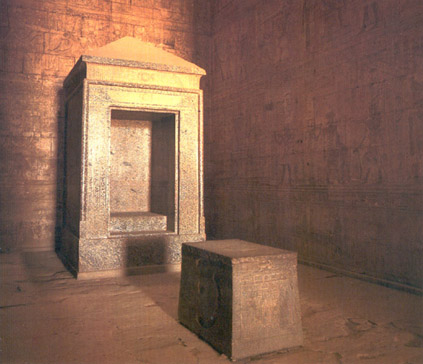 A couple of months ago my friend went to this exhibit at a museum in Paris that had what is called the Naos of the Decades on display. She took some pics and video clips of it for me because I was totally amazed and surprised to hear that it was on display. The Naos of the Decades is this stone structure which lists the Egyptian decans on it and provides information about their astrological meaning. The decans are these 10 degree asterisms that lie just off the ecliptic and were initially used by the Egyptians for time-keeping purposes, although they eventually came to be used astrologically. The importance of the Naos of the Decades is that it appears to provide evidence for a much older tradition of Egyptian astrology than scholars previously assumed existed. Until recently it appeared that the Egyptians didn't develop an advanced tradition of decanic astrology until the 1st or 2nd century BCE, but The Naos of the Decades is now being dated to the 5th century BCE.[1]
Hellenistic astrology was created as a result of a synthesis of the Mesopotamian and Egyptian traditions of astrology sometime around the 1st or 2nd century BCE, and while the origins of the Mesopotamian or Babylonian tradition of astrology have been established as reaching as far back as the 2nd millennium BCE, it is quite interesting to see that the Egyptians were providing the Mesopotamian astrologers with some competition at least by the 5th century.
While it is true that the ancient Egyptians never developed any terribly complex forms of astrology because they lacked an advanced mathematical astronomy, some scholars such as Jim Tester have pointed out that the decans may have spurred the development of the "houses" in horoscopic astrology because of the emphasis on the diurnal motion of the stars around the Earth.
So, here is a clip of the Naos along with some links to other clips. It was recovered from the ocean floor in three difference pieces over the course of the past century or so, so it isn't in very good shape, but still…
Article tags: decans, Egyptian astrology, Mesopotamian astrology