Home » book reviews
Book Review: The Fated Sky by Benson Bobrick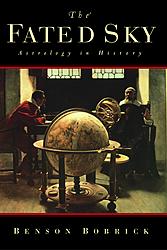 Benson Bobrick, The Fated Sky: Astrology In History, Simon and Schuster, 2005.
I'm going to get it out of the way and just say right from the onset that I did not like this book. I was actually quite excited when it first came out in late 2005 because there was a lot of hype surrounding the book in the astrological community since it was supposedly written by a neutral historian named Benson Bobrick who was going to write a popular book on the history of astrology. As someone who is interested in the history and transmission of astrology I was pleased to hear that there would be a new book on the market that would presumably incorporate much of the new research and discoveries that have been made about the history of the subject over the past century or so. Unfortunately I was quite disappointed when I eventually obtained a copy and started reading it in early 2006.
I guess that the reason that I am writing this review is because there are a number of other really good books on the history of astrology written by both astrologers and academics that don't make the same mistakes that this book does, yet for some reason this book is being trumpeted by people in the astrological community at the moment as this great masterpiece even though it is not.
I've read several overly favorable reviews of the book over the past year from astrologers in various sources online and in print that I would rather not cite, and it is kind of frustrating. I guess that part of this is just the result of this notion that we have to 'support the team' somehow, and we should root for one of our guys when they make it into the mainstream. I think that this is a faulty approach to take though, and I don't think that astrologers should commend a work simply because it speaks favorably about a subject that we think highly of. I think that it is actually quite healthy to critique works like this because it forces us to do better and to tighten up our positions on certain matters, just like in any other academic field. Simply giving the book a passing grade because it is pro-astrology actually causes more damage to the community, in my opinion, because then any issues that are present in the work are left unaddressed and they subsequently find their way into the contemporary historical narrative and are repeated by other astrologers unknowingly.
While I would never simply tell someone that they shouldn't read a certain book, I do think that some people would be better off without knowing about this particular book because then the same mistakes and misconceptions wont be repeated over and over again by astrologers and researchers alike over the coming decades. I would much rather recommend more well researched books by scholars such as James Holden, David Pingree, Nick Campion, Peter Whitfield, or Jim Tester.
In order to keep this review pithy I will just say that Bobrick's book suffers from a number of issues such as an over reliance on secondary and tertiary sources, a few apparently bogus citations, what appears to be religious favoritism, overtly biased pro-astrology reporting to the point of fanboyism, and generally poor organization.
One of the more egregious, if not hilarious, examples of the types of mistakes contained in this book is on pg. 20 when he starts talking about "Palchus"
On the morning of July 14, A.D. 479, a worried client sought out an Egyptian astrologer in Smyrna by the name of Palchus and, at 8:30 A.M., asked whether a ship that he was expecting from Alexandria, now way overdue, would eventually arrive safely, and, if so, when…
The problem with this story is that "Palchus" is merely a pseudonym of a late 14th century Byzantine astrologer-scribe named Eleutherius Zebelenus of Elis, and not a 5th century Eyptian astrologer, as Bobrick would have you to believe. The horoscope that he is referring to is actually from a group of genuine charts from the 5th century that Elutherius gathered together and edited under the name of "Palchus". It is ridiculous that Bobrick simply attempted to turn "Palchus" into a living Egyptian astrologer from the 5th century when this was merely the handle of this Byzantine scribe. I have my own issues with the supposed horary charts that are collected together under the name "Palchus" to begin with, but that is sort of a side issue that I can't really fault Bobrick for since a number of other people made this mistake, or at least what I suspect is a mistake, long before he did.
Still, it seems like if he had really done his homework he would have realized how faulty this statement was, in addition to a number of other statements. It is possible that Bobrick was aware of these issues surrounding the fact that Palchus was the handle of this 14th century scribe and he decided to elaborate the story a bit anyways by taking a bit of artistic license, as he does in a few other parts of the book in his somewhat dramatized style of presentation. I don't really know.
I realize that he was trying to spice things up a bit because he knew that he was writing to a large audience, but still… It is supposed to be a history book. The majority of people in the astrological community don't really know that much about the history of astrology because it is seldom dealt with in astrological texts, so its not like they are going to call him out on this, but the problem is that these are the people who he his is informing with this book. The academic community isn't going to be reading it because actual scholars who are familiar with the history of astrology would drop the book after a couple of pages because of the overt bias and historical dramatization of the subject.
The astrological community was swooning over him for a little while last year because he was supposedly a neutral historian who wrote a book that was going to be kind of favorable towards astrology, but that couldn't be further from the truth. He is so biased in his coverage of astrology that he actually makes mistakes in reporting the history of the subject because of his overt fondness of it. I have heard rumors that he is actually a student of John Frawley's, which actually makes a lot of sense because the entire book reads as if it were written from the perspective of a 17th century Christian astrologer- even when it is talking about other traditions of astrology! Now, I'm not saying that there is anything wrong with practicing 17th century astrology, or being a Christian. I am just saying that the author's perspective on astrology is clearly highly influenced by that particular tradition, and there are a number of instances where it skews his ability to accurately report the astrological notions that were held in other traditions of astrology.
Some might say that any book on the history of astrology written by an astrologer is going to be biased, but to that I would reply that they should compare Bobrick's work with the work of other astrologer/historians such as James Holden and Nick Campion and then you will understand the difference. There is a line between reporting about something that you actually practice and perhaps endorse, versus this sort of overt fanboyism where you are simply raving about how great astrology is and downplaying anything negative to the point where you are actually skewing and distorting the historical record. I see no reason to advocate such an approach, especially when astrologers have been trying so desperately to regain some degree of respectability for their practice.
I apologize for the rant here. I've just been meaning to write a review of this book since I read it early last year because I was so excited when it first came out but then so disappointed when I actually got into it. I am open to feedback and counterarguments on my critique if someone would like disagree with my assessment of the book though.
Article tags: Benson Bobrick, book reviews, Palchus