Home » astrology news
Rachel Maddow Talks About Mercury Retrograde on MSNBC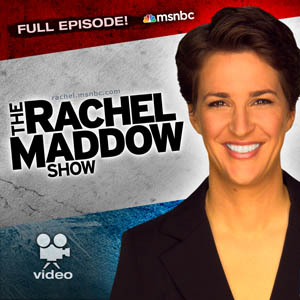 The astrological community is abuzz today after political commentator Rachel Maddow discussed the current Mercury retrograde period last night on her popular television show on MSNBC, The Rachel Maddow Show.
Mercury has been retrograde since December 26th, and in a brief segment Maddow highlighted some of the wacky Mercury retrograde-esq things that have happened in the news over the past week or so.
It is a somewhat rare occurrence to see astrology mentioned favorably on mainstream news channels at this point, and it is even more rare to see a popular television host correlating recent events with astrological cycles.
Plus Rachel Maddow is awesome to begin with.  So, understandably a number of astrologers were pretty excited to see this coverage last night on her show.
Video
Transcript
My friend Moses Siregar wrote up a transcript of Maddow's comments on Facebook yesterday, which he graciously allowed me to post here:
For all you astrologers out there, the planet Mercury has been in retrograde since December 26th. And if you believe that sort of thing is important, you may thereby have insight into why everything seems to be going bonkers right now. When we went to put together Ms. Info for tonight's show I swear there were so many weird stories one right after the other that I started to become a believer. Turns out, I'm an Aries.
After a commercial:
But first, a few holy mackerel stories in today's news. And by holy mackerel I mean, what is going on? I mean, perhaps people are always doing inexplicable insane things in public that sort of make it into the news and we're only now just paying attention. Or, this whole Mercury in retrograde thing is for real. Consider the evidence. Last night …
[story of a guy who was removed from a plane before takeoff because he threatened to "kill all the Jews"] … [story of a flight to Hawaii from Portland that had to be escorted back to Portland by two F-15 fighter jets because a passenger gave a flight attendant a disturbing note and refused to let go of his carry-on bag] … [story of a TSA agent off duty who was arrested after acting strangely and saying, "I am God, I'm in charge"] … [story of a man getting to Kathleen Sebelius after impersonating a secret service agent even though he was considered dangerous] … [story of a naked man who was arrested while jogging] … [story of a guy who shut down the Newark airport after he just wanted a kiss].
Maddow then concludes the segment with the comment:
Mercury retrograde, I believe.
Coverage of Astrology in the Mainstream Media
While Maddow doesn't exactly come across as entirely sold on the whole astrology thing, this is still a lot better than the usual hatchet jobs that we've seen over the past few years from CNN, or even NPR for that matter.
Unfortunately, until today the only halfway favorable coverage of astrology I've seen on any of the mainstream media channels  in recent times was an interview with the astrologer Diana Brownstone last year on Fox News.
Of course, there are significant Mercury retrograde events taking place periodically every few months, and it will be interesting to see if some of these correlations start to get mentioned more often in the future as astrological concepts like this become more mainstream.
An incident that has to go down as one of the biggest Mercury retrograde snafus of all time occurred just last year with the oath of office flub during Obama's inauguration, which we covered over on the Political Astrology Blog.  Unfortunately I don't think that that one really got much coverage in the mainstream media at the time.
Let's hope to see more coverage like this in the future though.
.
.
Thanks go to Moses Siregar for the transcript, and Patrick Watson for the heads up on the story.
Article tags: astrology in mainstream media, CNN, Fox News, Mercury retrograde, MSNBC, NPR, Rachel Maddow, video clips