Home » astrology news
New Astrology Themed Movie, Five Star Day, Premieres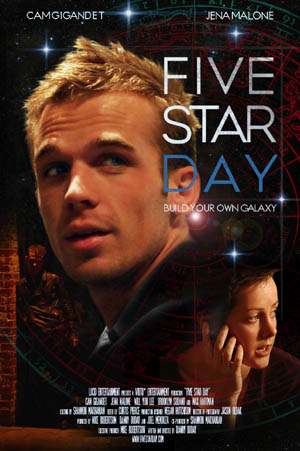 A new astrologically themed movie called Five Star Day premiered yesterday at the Newport Beach Film Festival in California.
Unlike the romantic comedy that came out in India last year titled What's Your Rasshee, Five Star Day is a more serious drama that appears to incorporate astrological concepts into the film's narrative at more than just a superficial level.
The plot actually sounds quite interesting, as it deals with one of the perennial philosophical issues with the concept of natal astrology, which is the issue of "time twins", or people who are born at the same time and place.
The premise of the movie is that the lead character reads a newspaper horoscope on his birthday that tells him that he is going to have a great day, or a 'five star day'.  After the exact opposite happens and he has a particularly terrible day, he sets out on a mission to disprove astrology by comparing his day with that of three other people who were born at the same moment that he was.   If he can show that they all had different days, then it will disprove astrology.  Or something like that.
Below is a full plot synopsis and trailer from the Five Star Day website.  Since the movie just premiered yesterday, I haven't heard any reviews yet.  There doesn't appear to be any news yet about if there will be a wider theatrical release of the film across the US, or if it will just go direct to DVD at some point in the near future.  I will post more info as soon as I find out though.
Full Plot Synopsis
From the Five Star Day website:
Four People. One Horoscope. Infinite Possibilities.

Jake Gibson's (Cam Gigandet) horoscope forecasts a perfect Five Star Day the morning of his birthday.  Little does he realize that what's foretold to be a flawless Five Star Day, unfolds to be far less than stellar when Jake's world is turned upside down as all that could go wrong…… does.

Determined that Astrology has no legitimacy, Jake embarks on a journey to test the theory of Astrology by finding the three people born the same time and place as himself:  Sarah Reynolds (Jena Malone), Yvette Montgomery (Brooklyn Sudano) and Wesley Henderson (Max Hartman).  The journey quickly uproots Jake from the small college town of Berkeley, California to downtown Chicago where he sets out to find and interview Sarah, Yvette and Wesley to see if their birthdays proved to be as disappointing as his own. Jake's pursuit in finding his three Astrological matches (or Zodiac twins) will not only test his convictions, but validate how life's unexpected twists of fate can deliver much more than the anticipated.

The unforeseen takes Jake from the Windy City, to the boardwalk of New Jersey's Atlantic City, to the bustling streets of New York.  What Jake learns along the way is an important lesson about life, love, fate and destiny that will unexpectedly change his life forever.
The trailer for Five Star Day
Here is the trailer for Five Star Day from their YouTube page:
Viral marketing site, Zodiac Tracker
There is also a pretty cool viral marketing website that appears to have been created for the purposes of promoting the film, which you can check that out at www.zodiactracker.com.
Reviews?
If anyone happens to see the movie then I'd love to hear what you thought of it in the comments section below.  Please, no spoilers though!
Updates
Article tags: astrological movie, Five Star Day, horoscopes, movies, Natal astrology, time twins