Home » astrology news
Julian Assange's Birth Time Discovered by TMA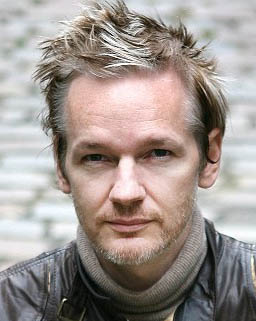 Over the past few weeks as the drama surrounding WikiLeaks and its founder Julian Assange has played out in the news, a different type of drama has unfolded within the astrological community as astrologers have tried to determine the correct birth chart for Assange.
The most important event occurred last week when the astrological magazine The Mountain Astrologer (TMA) announced that an anonymous source had contacted them and disclosed Julian Assange's birth time from official birth records.
This announcement occurred on December 7, which was the same day that he was arrested in London based on a warrant issued by Swedish authorities via Interpol.   It was actually only a week prior to his arrest that his birth date was finally confirmed, as a result of being listed on the Interpol warrant issued in late November.   This warrant on the Interpol website, which has since been removed, also listed his birth place as Townsville, Australia.
TMA's source, who apparently had access to Assange's birth records, reported that his birth time was listed as 2:05, 2:06. or 2:08 PM. The uncertainty surrounding the exact minute is apparently due to the ink on the record being smeared, although the range is narrow enough to give us the location of the ascendant within a degree.
Using the 2:05 time and the birth date originally given by Interpol gives us the following chart:
Julian Assange, July 3, 1971, at 2:05 PM in Townsville, Queensland, Australia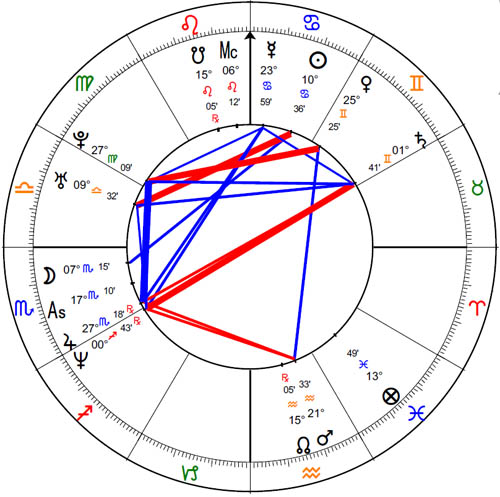 The Reliability of the Birth Time
The reliability of TMA's anonymous source was questioned almost immediately after the announcement was made.  On one level there is the sense of uneasiness that naturally arises simply from the fact that the source of the data wishes to remain anonymous.  This is heightened since, on the one hand, the astrological community has had a number of high-profile debacles concerning birth data in recent memory, and on the other hand because this is already a very sensitive situation in which a lot of accusations of character assassination and misinformation are being thrown about.
Some eyebrows were also raised because, except in some places, birth times are generally not recorded in Australia, so the initial announcement that the time came straight from Assange's birth certificate seemed highly improbable.   TMA later responded to this criticism with some additional information from their source, who told them that the time came from a record in the registry files that was appended to the birth certificate – not from the birth certificate itself.
Additional issues were raised by Australian astrologer and data collector Sy Scholfield.  The most lingering question at this point seems to be that Assange's mother's surname was not "Assange" when he was born, and the source would have needed to know the mother's actual surname in order to actively seek out the birth records.   When asked about this, TMA's source was only able to provide what they acknowledged was a pretty unsatisfying response, that they couldn't remember exactly what name was listed for Assange's mother.   The source suggested that the best way to confirm the veracity of the information was to contact Assange's mother herself.
So at this point, as of December 19, 2010, we lack any kind of confirmation of the birth time.   However, despite some of Scholfield's valid questions and criticisms, I'm inclined to accept the birth time reported by TMA as being legitimate.  Let me explain why:
The people at The Mountain Astrologer have been in the game for a number of years now, and I would expect that they've seen enough controversies surrounding birth data to cause them to be a bit discerning when it comes to deciding when to report data that was given to them by someone who wishes to remain anonymous.  Obviously that puts us, the astrological community, in the less than ideal position of having to just take their word for it that they looked into it and the source seems legit, but honestly it's not unheard of for something like this to happen.
Sometimes birth data gets leaked by sources who happen to find themselves in the position of having access to a little piece of information that the rest of the world usually considers to be quite insignificant.   Sometimes those sources are forced to maintain their anonymity in order to avoid legal repercussions, despite the fact that this is one of the top 10 things  that keeps astrologers up late at night with bad dreams.
In many ways the situation is rather fitting given who the subject of the present piece of birth data is, and the fact that his organization's entire focus is providing a platform for anonymous sources to disseminate important pieces of information that is of a private nature.  Sometimes it is only through anonymity that certain pieces of information will ever see the light of day.
A Few Points of Interest in Assange's Birth Chart
With all of that out of the way, I wanted to make a few brief comments about some things that I thought were interesting in the proposed birth chart.   A lot of people in the astrological community have made comments about Assange's chart at this point, and my goal isn't to rehash what has already been said here, but instead just to make a few observations that I feel might contribute to the ongoing dialogue as we watch this person's life unfold.
If the birth time is correct, the ruler of the ascendant is Mars, and it is placed in the 4th house.   From the perspective of a Hellenistic astrologer this would actually be the source of his fascination with secret matters and things that are hidden.    Yes, the 4th house still has to do with the home and the family in Hellenistic astrology, but there is also this heavy element of secrecy since it is the place that is exactly opposite to the midheaven, underneath the earth in the part of the chart where the planets cannot be seen.
Not only that, but since it is the ruler of his ascendant, it shows that this is a large part of what his life will be directed towards, although it will also be the source of some of his greatest difficulties and hardships since it is Mars and it is the contrary to the sect malefic.   Interestingly, he is in a 4th house profection year right now according to Annual Profections from the ascendant, so that very Mars placement in the 4th house is what is being activated this year, ever since his birthday in July.   If the time is correct then 4th house profection years would be the most difficult ones for him, and curiously they are also ones in which danger to his physical health would be the most acute.
My friend Nick Dagan Best points out that regardless of the birth time, Assange was born with a pretty tight Saturn-Neptune opposition, and he was having a recurrence transit where there was a Saturn-Neptune opposition in the sky when WikiLeaks was founded.   To underscore why that is interesting, that is the only time that there has been a Saturn-Neptune opposition in the sky since the one that he was born under in 1971.
Whether the allegations made against him turn out to be true or false, this will be a very good textbook example to use in the future about how a tight Venus-Pluto square can play out when it is activated by a hard Uranus transit.   As a signature, Venus-Pluto configurations usually have to do with power dynamics in relationships, especially situations  having to do with control, as well as heightened levels of intensity and intrigue.   If the birth time is correct then it's all the more important for Assange because Venus would be the ruler of his 7th house of relationships.   Note that Uranus made a retrograde ingress back into Pisces within a few hours of when the first sexual encounter is said to have taken place, on the night of August 13th.  In and of itself this is not enough to draw any sort of conclusion one way or another about the allegations that have been made against him though.   Taken in isolation these configurations could indicate either a situation in which the native tends to be somewhat aggressive or manipulative in relationships, or on the other hand in which he finds himself the target of manipulation as a result of romantic encounters.   The Uranus transit was simply acting as a trigger by setting up a situation in which there was a possibility of short term sexual encounters, and this also activated the Venus-Pluto signature in his chart.
Along those lines, my other friend Patrick Watson has pointed out a number of ways in which Uranus shows up as a very strong signature in both Assange's life and for WikiLeaks in general.  He points out that
a) He was born with Sun square Uranus, b) he started WikiLeaks when the Sun was on his natal Uranus, c) he turned himself in and was arrested on the day of the Uranus direct station, d) Uranus is on the degree of the descendant of the WikiLeaks chart, which has the Moon applying to Uranus, and e) he was arrested for hacking in 1991, the year that Uranus was in opposition to his natal Sun and square his natal Uranus.  I'd expect a pretty interesting development with him in 2013-14 when Uranus reaches opposition to his natal Uranus and squares his natal Sun."
In some ways this makes more sense to me within the context of the proposed birth time because it would make the Sun the ruler of his 10th house, and thus the natal Sun-Uranus square would primarily be relevant to his work, reputation and life direction.  This would mean that his career and reputation would be wrapped up in common Uranian themes having to do with the disruption of existing power structures and institutions, freedom (especially of information), independence, surprising revelations, progress through technology, etc.
The final point that I wanted to mention is something that I find perplexing about the chart associated with the birth time that TMA obtained.  According to a Hellenistic time-lord technique that I use called Zodiacal Releasing, which can be used to study peak periods in a person's career and eminence, while Julian Assange is in a "peak period" right now with respect to his career, and he has been for the past year, this is not the highest point that he will hit in his life for his career, life's work or eminence, if the birth time is correct.  In fact, it is not until 2014 that he hits his 20 year major peak period in which some of his most important or significant work will be done.
This seems rather surprising to me at this point because I cannot imagine what he could do in the future to become any more prominent than he has already become in the past several months.   This puts me in the position of thinking that either A) the birth time is wrong because he has become an international figure and impacted governments all over the world in the past several months, yet the technique doesn't show this as being the highest point in his eminence or life's work, or B) the birth time is correct, and while the technique shows the past several months as being a high point in his career, his most important and lasting work is still yet to come.
Initially I was inclined to assume that the first option was correct, that the birth time was simply wrong, but the more I've looked at his past chronology with the technique, the more it seems to line up with some of the major events in his life.   Now, obviously something could come out of the blue which would cut the man down in his prime, before he has the opportunity to take advantage of this period which seems to hold so much potential for his career.  That is why Ptolemy begins his chapter on the length of life technique with the statement that there is no use making predictions about important events in the future for someone who will not live long enough to take advantage of those periods.   This is not something that I have taken into account in this chart though, but instead I'm simply saying that if he is still around, then things should start to get even more interesting in his life in just a few years from now.
So if indeed the birth time is approximately correct, then regardless of what happens over the next few months, I don't think that we've heard the last of Julian Assange.
Article tags: birth chart, birth data, birth times, Julian Assange, recurrence transit, WikiLeaks