Home » astrology news
Sarah Palin's Birth Time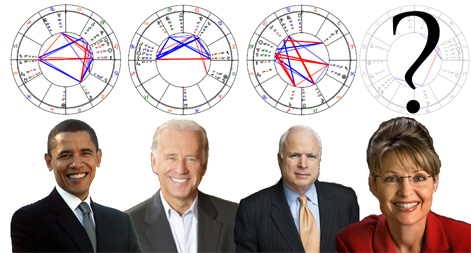 The US presidential election is only a few weeks away and we appear to have reliable birth data for Obama, McCain and Biden at this point, although there is still one missing piece:  we don't have a reliable birth time for Sarah Palin.  A couple of birth times have been floating around for her over the past few weeks since she got the vice presidential nomination, but no one really seems to be able to say exactly what the source is for these birth times.
The birth time that shows up most frequently at this point is 4:40 PM, but the problem is that no one can verify the source.  Some people say that it comes from the astrologer Margie Herskovitz and that it is derived directly from the birth certificate, while others say that this birth time came from another astrologer named Gregg DeLaCastro.  Eric Francis addressed some of the confusion surrounding Palin's birth time over at PlanetWaves.
The sources that were attributing the 4:40 PM time to Margie Herskovitz were saying that they got it from an AFAN newsletter, so I decided to write to my friend Frank Piechoski from AFAN in order to get the inside scoop on what the story is on this.   In order to set the record straight on this I will reproduce part of his message to me here (with his permission, of course):
Unfortunately, that birth time is not yet substantiated in my opinion. It wasn't published in the [AFAN] Newsletter – it appeared as a post on the AFAN memebers e-mail list. Here is the information from the AFAN List from Linda Lehman on Sept. 1 2008:

"Astrologer Gregg DeLaCastro reports Sarah Palin's birth information as

AA: Quoted BC/BR

February 11, 1964
4:40 PM
Sandpoint, Idaho"

Apparently, Margie saw this and passed it on to someone else so it was attributed to Margie. It propagated to other lists with Margie's name involved. Attempts to contact Gregg DeLaCastro for more information have been unsuccessful as far as I know.

I would treat the data with extreme caution until we get an explanation from DeLaCastro.
So, there you go.  At this point we still don't have any verified data on Palin.  We do know that she was born on February 11, 1964 in Sandpoint, Idaho, but without the birth time our ability to make any predictions based on her chart are seriously restricted.  Anyone who takes the 4:40 PM time for granted at this point and uses it to make predictions is sort of taking a leap of faith, and as we know from the whole Obama birth time debacle from earlier this year this sort of approach can be rather risky.
I would advise people to show a bit more caution and restraint with respect to Palin's birth chart until we can get this cleared up, and perhaps get a verified birth time from somewhere.   If you have any information that might be helpful then please let me know.
Of course, we do have what appears to be reliable data for Obama, McCain and Biden, so their charts are fair game.
Article tags: 2008 US presidential election, Barack Obama, John McCain, Joseph Biden, Political astrology, Sarah Palin