Home » astrological techniques and concepts
What is Horoscopic Astrology?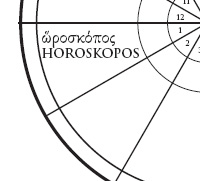 Horoscopic astrology is a very specific and advanced type of astrology that was developed in the Mediterranean region during the late Hellenistic period, sometime around the 1st or 2nd century BCE. The tradition of astrology that flourished during this time period is usually referred to as Hellenistic astrology, although there is a distinction between horoscopic astrology and Hellenistic astrology, since horoscopic astrology is simply a type of astrology, whereas Hellenistic astrology is a tradition of astrology. Technically Hellenistic astrology was the first tradition of horoscopic astrology, although there have been many later traditions of horoscopic astrology over the past 2,000 years.
The main thing that distinguishes horoscopic astrology from other forms of astrology is the use of the ascendant, and other points that are derived from the ascendant. Originally the Greek term hōroskopos, from which our terms "horoscope" and "horoscopic" are derived, was simply a technical term that was used to refer to the "ascendant" in an astrological chart. Hōroskopos literally means "hour-marker," and in Hellenistic astrology the term was used to refer to the ascendant and to the first house in a chart.
In modern times the term "horoscope" has acquired a more general usage as a word used to refer to a thematic representation of the heavens set for the moment of a specific event, such as the birth of an individual for example (i.e. a birth chart), or even for the type of Sun-sign columns that you find in newspapers and magazines. However, strictly speaking, horoscopic astrology is simply any form of astrology that utilizes the ascendant. From the ascendant additional factors are often derived, for example such as the system of 12 celestial "houses", or the system of 'Lots', sometimes misleadingly called "Arabic parts".
Since horoscopic astrology is any form of astrology that utilizes the ascendant, this includes many traditions of astrology from the past 2,000 years since astrologers first began employing the ascendant, including Indian astrology, Medieval astrology, Renaissance astrology, and Modern astrology. These traditions of horoscopic astrology are distinct from other traditions of astrology that do not employ the ascendant, such as Mesopotamian astrology, Chinese astrology, and Mesoamerican astrology.
All traditions of horoscopic astrology share a similar focus, insomuch as they all attempt to interpret and draw meaning from the positions of celestial bodies at certain moments in time, with the underlying premiss that these positions and configurations have something significant to say about the future of a given individual or system. The general assumption is that horoscopic astrology can be used to reconstruct the past, understand the present, and predict the future.
Article tags: ascendant, horoscopic astrology