Home » astrology news
31 Percent of Americans "Believe" in Astrology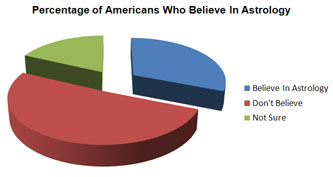 A new Harris Poll was released yesterday in which 31 percent of respondents said that they "believed" in astrology. 51 percent said that they don't believe in it, while 18 percent said that they were not sure.
The poll was apparently conducted online with 2,126 Americans between November 10th and the 17th, 2008.
I noticed some skeptic trumpeting this number because it ranks towards the bottom of other beliefs related to religion, UFOs and ghosts, but I think that he sort of overlooked the fact that this is a two point increase over a similar poll that the same company did in 2007 which said that 29 percent of Americans believed in astrology. This 2007 poll actually showed a 4 point increase over another one that was done in 2005 which showed that only 25 percent of Americans believed in astrology.
While I wouldn't go so far as to say that this clearly shows an increase of "belief" in astrology, I don't think that this is necessarily cause for skeptics of astrology to start dancing in the streets. The large number of undecided people makes you wonder what exactly they were unsure about. That is to say, was it that they were unsure about whether or not astrology is a legitimate phenomena, or was it that they were unsure about what exactly constituted "belief" in astrology?
Nick Campion actually addressed this issue in his recent book What Do Astrologers Believe?. After examining some recent statistical studies which show high levels of people who say that they pay attention to or follow astrology in one way or another but don't believe in it, he raises the question:
why do people who claim not to believe in astrology still choose to read about it?
Campion ends up concluding
Most people seem to think there is something in astrology although they would not consciously let it influence their decisions.
Most astrologers actually object to the notion that astrology is a belief system, and would probably object to such a query quite indignantly. There is this interview that Campion did with Liz Greene a few years ago that illustrates this common position that astrologers often take:
Nick Campion: Would you say that astrology itself is a belief system?

Liz Greene: No, I wouldn't, any more than any symbol is a belief system. I don't know what symbols are, except that they seem to emerge organically as containers of a multitude of conflicting and complicated patterns that are connected in some way. We don't manufacture them, and we certainly don't believe in them. They are there anyway. We perceive them, notice them, and make connections between them. "Believing" in astrology makes no sense to me. It is nonsense to say, "I believe in it," because belief is something you do when you have no direct experience. Astrology is something that requires experience and hands-on work to see whether it conveys any meaning or relevance. So, it is like saying, "Do you believe in your car?" No, I just drive it. I have no idea how it runs, but if it works, well, fine. People who say they believe in astrology are either using the wrong word or don't know what they are talking about.
So, this raises some questions. Is it proper to ask people if they "believe" in astrology, and would such a study provide an accurate assessment of the popularity of astrology? If a person is not sure if they "believe" in astrology, what does that mean exactly?
Would a person who adhered to a specific religion that frowned upon astrology say that they don't 'believe' in astrology simply as a way of saying that they don't follow it, despite whether or not they think that there is anything to it?
Would astrologers themselves actually classify astrology as a belief system, in the same sense that they might be able to classify other religious, philosophical or metaphysical views that they have as belief systems?
What do you think?
Article tags: astrologers, astrology, belief in astrology, Liz Greene, Nick Campion, skeptics