Home » history and philosophy of astrology
2012 and Millenarianism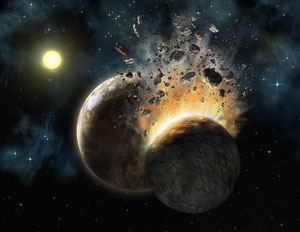 I recently realized that I may have been a bit too brash last year in my declaration that people who are freaking out about 2012 need a reality check.  Now, I don't really feel the need to recant that statement so much as I feel the need to explain my position a bit better than I did previously, perhaps in a slightly less mocking tone (some allowances must be made for the picture on the left, because it's awesome).1
The impetus to better explain my position on 2012 arose recently when I realized that it was slightly absurd for an astrologer to be mocking other people who are into weird, paranormal notions, particularly ones that are purportedly based on an astrological premise.  This will be the first part in a series on the subject.  So, here it goes.
Millenarianism
The 2012 phenomenon has always struck me as a typical example of millenarianism.  What is millenarianism you ask?  The term is derived from the Latin term 'millennium', which means 'one thousand years', and in the most narrow sense it is  often used to refer to the Christian belief that world history is divided into specific thousand years periods.  For example, the thousand year reign of Jesus mentioned in the Book of Revelation.
The term can also be applied more loosely though.   The historian Nick Campion explains that in addition to its Christian connotations the term millenarianism can be loosely defined as
…the belief that, periodically, the world experiences a major historical crisis that may be both natural and supernatural in nature.  People who believe in such events are known as millenarians. 2
Wikipedia has an even broader, although perhaps more appropriate definition of millenarianism as
the belief by a religious, social, or political group or movement in a coming major transformation of society, after which all things will be changed.
2012 as a Millenarian Myth
It is within the context of this broader definition of millenarianism that I view the 2012 phenomenon.  It is the belief that there is a historically significant date or time frame in the near future in which some sort of natural or supernatural crisis or transformation will take place, thus changing the world.
The problem with this particular movement is that the Mayans didn't actually predict anything about what would happen in 2012, and thus different people have taken it upon themselves to speculate upon the nature of the allegedly impending event(s).  This is why the speculations themselves range from predictions about a worldwide cataclysm to predictions about a more intangible worldwide spiritual shift in consciousness – because the Mayans didn't actually say anything specific about something significant happening.
As is the case with most millenarian movements, many of the would-be 2012 prophets are simply projecting their own hopes and wishes onto the future, particularly the New Age crowd that says that there will be some sort of positive spiritual enlightenment occurring that year.  Underlying these predictions, and often millenarianism in general, are strong religious or spiritual undertones related to the type of ideal world that the individual hopes or expects to see in the future.
In many ways this is no different than the Christians who say that the return of Christ and his 1,000 year reign is imminent, and this is why the 2012 movement has always struck me as millenarianism.  The New Age scenarios may sound nicer in some ways, and everyone who is hoping for various versions of them has genuinely good intentions, but it is still nothing more than a religious group or person who is predicting that their own particular version of paradise is imminent.  The fact that they are attributing the consummation of their beliefs to an older civilization doesn't really obscure this fact, especially when said civilization is conspicuously silent on the matter.
.
.
.
The second part in this series is tentatively titled '2012, the New Age Movement, and the Age of Aquarius'.  It will be available soon.   If you would like to receive updates when new articles are published on the Horoscopic Astrology Blog then you can either sign up to receive them by email, or subscribe to my RSS feed.
.
.
Image from Gemini Observatory/Lynette Cook [↩]
Nick Campion, Astrology, History and Apocalypse, Center for Psychological Astrology Press, London, 2000, pg. 91. [↩]
Article tags: 2012, Mayans, millenarianism, New Age Movement, religion