Home » astrological tips and guides
Tutorial on How to Draw the Astrological Glyphs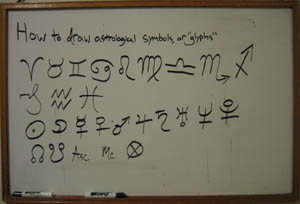 A few days ago a friend of mine told me that she had never learned how to draw the astrological symbols or "glyphs" because she had always used computerized charts.
So, I decided to make a video tutorial which demonstrates how to draw out the glyphs for the signs of the zodiac and the planets.
It should be useful for people who recently started learning astrology and still need to memorize the signs and symbols involved, or for people who already have that stuff down but don't know how to draw them out by hand.
Here is the video:
I also made a reference sheet for people who would like to be able to refer back to something as they are trying to memorize the astrological glyphs.    Here is a link to the PDF:
Astrological Glyphs for the Planets and Signs
Be sure to subscribe to my channel on YouTube and to this blog for updates on future videos and tutorials.   If you are looking for more in-depth information then you should check out the  online classes in astrology that I offer through my website.
Article tags: astrological glyphs, learning astrology, planets, signs of the zodiac, symbols, video clips