Home » astrology news
New Podcast on Astrology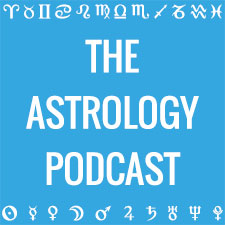 About a year and a half ago I started a new podcast on astrology called The Astrology Podcast.
The purpose of the show is to have discussions about technical, historical and philosophical topics related to astrology.
On each show I usually either have another astrologer on as a co-host in order to talk about a specific topic or theme, or I do an interview with a well-known astrologer about something they've been working on recently.
Episodes are released somewhat sporadically, but I've been trying to record a new one at least once a month. At this point I have done 13 episodes of the show.
I just realized that I never really announced the launch of this podcast here on the Horoscopic Astrology Blog though, so I thought that it would be a good idea to do that now.
I had previously done another podcast called Traditional Astrology Radio, and episodes of it are still available. I wanted to do something that would be a bit more mainstream though, because even though I specialize in Hellenistic astrology, I do not usually tend to limit myself to just traditional astrology. I wanted to be able to talk about a wider variety of topics, and I think that the new podcast provides a better format for that. I may still do some more episodes of Traditional Astrology Radio at some point in the future, but for now I'm focused on developing The Astrology Podcast.
Listening and Subscribing to The Astrology Podcast
The podcast is free, and in order to listen to it you can either stream episodes right from the website or you can download each one as an MP3.
You can subscribe to the podcast by entering your email address in on this page, and then you will receive an email each time a new episode of the show is released. Or you can subscribe to the show on iTunes. You can also follow our pages on Facebook or on Twitter in order to get notifications about the show there as well.
Episodes of the Show So Far
Here is a list of episodes of the podcast that I've done so far:
If you enjoy the show then please give it a good rating on iTunes, or "like" it on Facebook.
The Future of the Podcast
If you have any suggestions about specific topics that you would like me to address in future episodes of the show then please let me know in the comments section below.
I'm in the process of recording some new episodes of the show right now, so be sure to subscribe so that you will be notified when new episodes are released in the future.
Article tags: astrologers, astrology podcasts, astrology websites, Austin Coppock, Benjamin Dykes, definitions, electional astrology, interviews, Kelly Surtees, Mercury retrograde, Nick Dagan Best, Political astrology, Robert Hand, traditional astrology