Home » astrology news, Video
Lee Lehman on Astrology as a Civil Rights Issue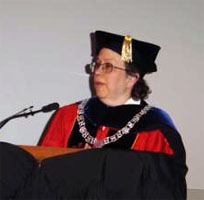 Lee Lehman gave an interesting speech at a recent Kepler College graduation ceremony in Seattle in October in which she drew parallels between the astrological community and the LGBT community, arguing that astrologers face a similar type of political discrimination as homosexuals do.
During the course of the speech she pointed out a number of parallels between the two communities, and argued that astrologers share the same sort of mentality as homosexuals did 40 years ago with respect to what they do, and what their place is in society:
One of the major problems with astrology is that astrologers themselves do not recognize that the status of astrology is a political issue, and that the position of astrologers in our society is completely analogous to the position of gay people before Stonewall.
The 1969 Stonewall riots are commonly seen as a turning point for the gay community, because they acted as a starting point for the gay rights movement. Lee goes on to raise the question
Is the astrological community like the gay community before Stonewall, and, if so, what does this mean for the future of astrology?
She then proceeded to outline the parallels between the astrological and gay communities, all of which she later argues are tell-tale signs of political discrimination:
You generally cannot spot an astrologer on the street.  Thus, talking about 'coming out' about one's interest in astrology is a completely comprehensible concept.
There is a substantial conservative religious community reviles both homosexuals and astrologers.  Thus, the practice of either could be considered to be a 'sin'.
An astrologer may find it difficult to tell his or her family, friends, etc.
An astrologer could lose face in social circles for admitting interest in astrology.
An astrologer could be harassed or even arrested.
An astrologer could observe parents stopping their children from trick-or-treating at the astrologer's house.
An astrologer could experience job discrimination or delays in promotion because of his or her's interests, and this is legal because belief in astrology is not something for which there are anti-discrimination statutes.
The naming of astrological organizations using euphemisms, like 'geocosmic'.
In the end Lee draws the conclusion based on these parallels that this is indeed "discrimination at its ugliest."
Lee then goes on to argue that astrologers are acting like gays before Stonewall in refusing to admit that this is a political issue, or that it has a political dimension.  While she admits that the issue is much more trivial than other forms of discrimination, such as discrimination against African Americans or women for example, she argues that it still leads to a type of abuse through both hatred on the part of non-astrologers, and  even self-hatred on the part of astrologers. She asks
How can we expect to develop a true profession in an environment where a substantial number of practitioners are afraid to admit what they do to a stranger?  How can we move forward when we feel compelled to accept every crumb of coverage from the news media, no matter how biased or sniggering?
Lee then concludes the speech with a sort of call to action on the part of the astrological community, with the first step being self-acceptance:
When will astrology begin its march toward political acceptance, and how will it happen?  I don't know.  But, long term, if Kepler College is to succeed, then happen it must.  The absence of freedom is tyranny, and as a liberal arts institution we are devoted to the arts of free men and women.  How can we teach and manifest those arts when we ourselves are not free, or at least attempting to free ourselves?
I thought that it was a really interesting and thought provoking speech, and many of the parallels that she drew were pretty accurate for many people I know in the astrological community.    What do you think?
Here is a full video clip of the speech from YouTube:
Article tags: Kepler College, Lee Lehman, skeptics