Home » astrology news
Robert Downey Jr Endorses Steven Forrest's Latest Book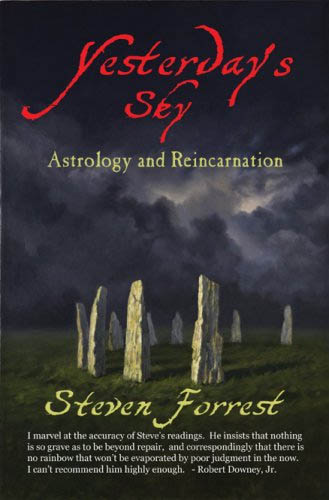 On the front cover of Steven Forrest's latest book, entitled Yesterday's Sky, there is an endorsement from the actor Robert Downey Jr., who is one of the leading actors in Hollywood right now.  Most recently he starred in the adaptation of Sherlock Holmes that was just released in theaters a few weeks ago.
I noticed this last spring at the Northwest Astrology Conference in Seattle when I was checking out some of the the new astrology titles in the bookstore.  I'm not sure if it qualifies as news exactly, but its kind of cool.
Its not really a direct endorsement of the book so much as it appears to be an endorsement of Forrest as an astrologer.  Nonetheless, it appears right on the cover, as you can see on the image to the left, and presumably Forrest got permission to put it on the cover.
Like most astrologers who have any sort of ethics, Forrest keeps his client files confidential.  So, this public endorsement gives us  a rare bit of insight into the type of clientele that one of the more prominent astrologers in the world keeps.
Here is the quote from the cover:
I marvel at the accuracy of Steve's readings.  He insists that nothing is so grave as to be beyond repair, and correspondingly that there is no rainbow that won't be evaporated by poor judgement in the now.  I can't recommend him highly enough.   – Robert Downey, Jr.
Forrest is one of the founders of a somewhat recent school of astrology called Evolutionary Astrology, which incorporates the doctrine of reincarnation and gives it an integral role in astrological practice.  While I haven't read Yesterday's Sky, it appears to expand upon Forrest's previous work and thoughts on this approach.
You can read the introduction to Yesterday's Sky here, or buy it on Amazon.com here.
Article tags: books, Evolutionary astrology, reincarnation, Robert Downey Jr, Steven Forrest