Home » astrology news
Everyone Should Calm Down About 2012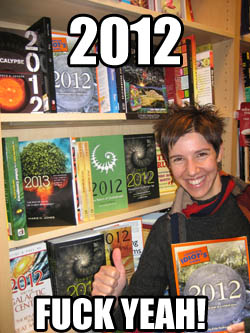 I walked into a major bookstore the other day and there was an entire bookcase that was literally packed with different books on 2012.  It seems like everyone is talking about it now, and there is even a high budget Hollywood movie coming out later this year named "2012" which plays off the theme.
Unfortunately it seems like a lot of astrologers are even playing into it, writing articles about certain "rare" astrological alignments in 2012, even trying to link it with the completely unrelated notion of the "Age of Aquarius" and generally helping to feed the hysteria.
The general consensus among the more apocalyptic 2012 people seems to be something to the effect that since some part of the Mayan calendar ends in 2012, the world itself will end in 2012. This notion of some sort of worldwide cataclysm in 2012 appears to be the plot underlying the upcoming movie "2012" that I mentioned earlier:
Using the logic applied above, I suspect that one of these days some 2012'er is going direct their attention towards their own own calendar, and I imagine that their line of thought is going to go something like this:
The Mayan calander ends in 2012, and therefore the world will end.

Wait a minute…

Our calendar ends on December 31st…

OMG THE WORLD ENDS ON DEC 31ST!!!1!
Different Theories About The Significance of 2012
Of course, like any major notion that has been adopted by the New Age movement, a number of different speculations have been put forward about the significance of 2012.  Here are a few popular theories about what will happen in 2012:
There will be pole shift.
Aliens invade earth and enslave humanity (à la X-Files)
An asteroid or comet will hit the Earth.
A global spiritual awakening/shift in consciousness will take place.
The end of the world will occur in some form or another.
Planet X/Niburu will swing into orbit and take out Earth/reestablish human contact with aliens.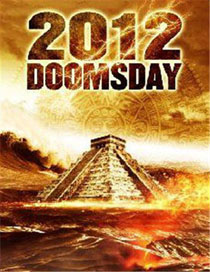 And the list goes on.  Enough ink has already been spilled over debunking some of the above theories, so I won't go into them there, although if you are interested in reading more about them then there was a good article written over at Altair Astrology recently in which he brought up some calendar issues, and Ian O'Neill over at Universe Today did a great series of articles debunking the 2012 myth as well.  Bruce Scofield, one of the leading western astrologers who has a serious background in Mayan astrology, also has some really great articles on 2012 on his site.
Don't Feed the Hype!
Recently I was pleased to see a really great article titled 20Y2K12 and Astrology's Reputation by Philip Sedgwick in which he urged astrologers to stop feeding into the hysteria surrounding 2012, dismissing one of the 2012 doomsday scenarios by saying that "the flawed astronomy of these fear-mongering speculations do not deserve attention".
I wholeheartedly agree, and I thought that it would be a good idea to highlight his concluding remarks in that article in order to give other astrologers some food for thought:
Seems to me, if we expect to be taken seriously and credibly, we must actively stave off the inaccurate prediction phenomena inspired by those who failed to get a turn spinning scary yarns around the fire at summer camp. We must understand astronomy and astrology, weaving the two back into a harmonious helix of cooperation. We must interrupt the nonsense speculations and reset people back to critical thinking and intelligent assessment of the cosmic variables we so readily perceive. We must avert the crisis of erroneous speculations regarding 20Y2K12. Join the cause now. Hurry! Time is running out. Only four more years to print bumper stickers and shift the consciousness of fearful negativity before the Mayan Calendar concludes.
So, what is the take home lesson?  Don't feed the hysteria people.  If you run into someone who is convinced that something crazy is going to happen in 2012, then either sit down and try to talk some sense into them, as you would a small child who is afraid of the dark, or just nod your head and back away very slowly.
Article tags: 2012, Mayans, Mundane astrology, Philip Sedgwick