Home » history and philosophy of astrology
Top 10 Astrologers of All Time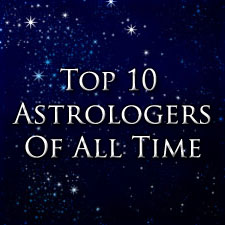 This is a list of the most famous and most influential astrologers of all time.
The list mainly covers astrologers who played an important role in the astrological tradition over the past 3,000 years, and it does not include any astrologers who are still alive today, or who lived relatively recently.  I plan to compile a list of the most famous contemporary astrologers in a separate article.
There is often a distinction between astrologers who were famous or influential within the astrological community versus those who were famous outside of it.  This list contains a bit of both, with some of the names belonging to very famous people, and others belonging to people who were influential within the astrological tradition but not very famous outside of it.
I'm going to focus primarily on the western astrological tradition here, since I'm not familiar enough with the history of Indian astrology to rank astrologers from that tradition yet.  At some point I will try to compile a list for that tradition though.
With those prefatory remarks out of the way, let's get started with the list of top 10 astrologers of all time:
10. Nechepso & Petosiris
In the 1st century BCE an extremely influential series of books were written which became the foundational texts of the Hellenistic tradition of astrology.   These books contained some of the core concepts that are still used in western astrology to this day.
For some reason the author of these works decided to remain anonymous, and instead he ascribed the compilation or series to an Egyptian king named Nechepso, and to a priest named Petosiris.
Sometimes Nechepso and Petosiris are mentioned separately, which seems to indicate that there were specific books that were specifically ascribed to one figure or the other, but most of the time they are mentioned together, as if they were portrayed as a team.
Just about every subsequent astrologer during the Hellenistic and Roman period drew on or mentioned these two figures in one way or another.  Unfortunately their works did not survive into the present time, and so all we have is a handful of quotes and references from later authors.  The sheer number of these references leaves no doubt that their compendium was extremely influential though.
9. Masha'allah
Masha'allah was one of the court astrologers who worked in Baghdad in the late 8th century CE under the early Islamic Caliphate.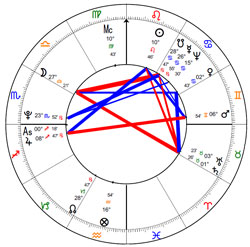 He is notable for being one of the astrologers who were consulted in order to select an auspicious electional chart for the founding of the city of Baghdad in the year 762, when the dynasty that was in control of the Islamic Empire at the time decided to move their capital there.  See the chart to the right.
He also penned a number of very influential astrological treatises in Arabic, which were then used as primary source texts by astrologers for centuries.  He also had several students who also went on to write important astrological works of their own.
Masha'allah also seems to have written some of the earliest surviving complete texts on horary astrology in the western tradition.
8. Alan Leo
Alan Leo (1860–1917) is generally regarded as the father of modern astrology.  He is usually credited with having spurred the revival of astrology in the west in the early 20th century, after a period of decline beginning in the 17th century.
He wrote a very influential series of books and magazines, and he also pioneered the practice of selling standardized natal chart interpretations.  He also founded a number of astrological organizations, such as the Astrological Lodge of London, which still holds meetings to this day.
Part of his legacy was to simplify the technical apparatus of modern astrology in order to make it easier for students to learn, while at the same time focusing more on character analysis rather than the concrete prediction of events.  He introduced an overt spiritual or esoteric slant to astrology that wasn't there before, as a result of his Theosophical beliefs.  His connections with the Theosophical Society allowed him to have his books translated into a number of other languages and widely circulated, which led to a revival of astrology in other European countries outside of England.
7. Vettius Valens
Vettius Valens was a Roman astrologer who wrote an important series of books in the mid-2nd century CE known at the Anthology. Valens was originally from Antioch, although later in his life he moved to Egypt and set up a school for astrologers there.
In the Anthology he drew on and quoted a number of older sources that are now lost, and he also discussed his own views about various technical and philosophical issues.  His compilation is notable for containing over 100 example charts that Valens drew from his own personal client files.  Some of the charts belong to eminent individuals, such as the emperor Nero, while others belong to everyday individuals who were alive in Valens' time.  It has been inferred that Valens used his own chart as an example several times in his work.
His Anthology is also unique for containing a number of personal asides and anecdotes.  The books were originally written in Greek for Valens' students, although eventually parts of the Anthology were translated into Persian sometime around the 3rd century, and then into Arabic in the 8th century.
Valens was highly regarded by some astrologers in the later Medieval tradition.  One later 10th century text has Valens being asked a horary question about the Prophet Muhammad.  Later, in the 12th century, the Byzantine Emperor Manuel I Komnenos wrote that the Emperor Constantine consulted Valens about an electional chart for the founding of the city of Constantinople.  Neither stories are true, since they both refer to events that took place centuries after Valens died, but they provide you with some idea of his popularity in later periods.
6. Nostradamus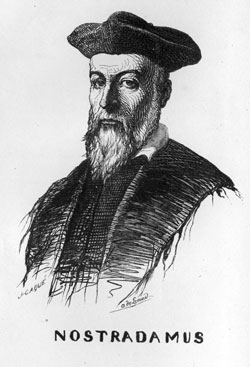 Arguably the most famous astrologer on our list, Michel de Nostredame (1503–1566) was a 16th century physician who wrote under the Latin pen name Nostradamus.
He is most well-known for his book The Prophecies, which was first published in 1566.  The book contains hundreds of predictions about the future, written in the form of short, cryptic four line poems known as quatrains.  In the preface he claims to have used astrology to some extent in order to make his predictions, and some of the quatrains refer to specific time periods in the future when certain planets will be in certain signs of the zodiac.
During his lifetime Nostradamus also published a popular almanac, and in the last year of his life he introduced an innovation in the almanac format to include a prediction for each day of the year.
Although he may be the most famous astrologer on our list, Nostradamus' effect on the astrological tradition itself is negligible, since he didn't publish any technical works on the subject.
5. Berossus
According to legends, Berossus was an astrologer from Mesopotamia who emigrated to the west and set up a school for astrology on the Greek island of Kos sometime around the early 3rd century BCE.
Unfortunately none of Berossus' astrological works survive, although legends about him persisted for centuries after his death, to the extent that he seems to have been regarded as one of the primary figures who transmitted Babylonian astrology to the west.  We do know the names of two of Berossus' students, which seems to indicate the he had disciples who carried on his work after he died.
His school was founded only a century or two before the advent of horoscopic astrology in the Mediterranean, and it seems likely that Berossus' school would have played a pivotal role in the transition between Mesopotamian and Hellenistic astrology.  It is not long after Berossus' time that we see the introduction of the four-fold system of planets, signs, houses and aspects that became the fundamental framework of western astrology over the past 2,000 years.
4. Dane Rudhyar
Dane Rudhyar (1895–1985) is the most recent astrologer on our list, although his first and most influential book, The Astrology of Personality, was published way back in 1936.
Like Alan Leo, Rudhyar was a Theosophist, and so he brought a spiritual or New Age approach to astrology.  However, Rudhyar's main accomplishment was the integration of certain elements of the relatively new field of depth psychology into astrology.  While Alan Leo began the process of moving astrology more towards character analysis, it is with Rudhyar that we really see the birth of psychological astrology.
Rudhyar took a particular interest in the work of the Swiss psychologist Carl Jung, and he was one of the first astrologers who attempted to synthesize Jung's approach to depth psychology with his astrology.
Rudhyar's work became very popular with the large number of astrologers who entered the field in the 1960s and '70s, which essentially had the result of establishing his approach to astrology as one of the dominant forms of late 20th century astrology.
3. William Lilly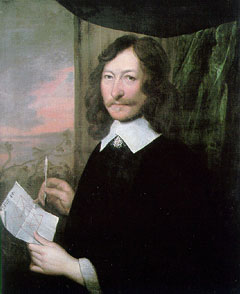 William Lilly (1602–1681) is best known for having published the first English language manual on astrology in the year 1647, titled Christian Astrology.  Up until that time many astrological texts were still being written in Latin.
Being the first English language manual on astrology, Lilly's work influenced generations of English-speaking astrologers over the past 300 years, and the book was reprinted several times in subsequent centuries.
Lilly's work on horary astrology has been seen as particularly important, and in the 1980s the rediscovery of his work led to a revival of traditional astrology, and traditional style horary in particular.
In his own time Lilly was most well-known for having predicted the Great Fire of London 14 years in advance.  His prediction was so striking that he was actually accused of having set the fire himself once it occurred in 1666, although he was eventually acquitted of the charges.
2. Dorotheus of Sidon
Dorotheus of Sidon write a highly influential instructional poem on astrology in Greek sometime in the late 1st century CE. The poem was divided into 5 books, and so it was known as the Pentateuch.
Dorotheus' influence on the later astrological tradition was enormous.  His book was translated into Persian, Arabic, and Latin, and it became the foundational text for natal and electional astrology in the Medieval period.
The fifth book of Dorotheus' work is the oldest surviving treatment of electional astrology in the entire western astrological tradition.  Not only that, but many of the later works on electional astrology for the next 1000-1500 years were explicitly patterned after the rules contained in Dorotheus' text, sometimes to the extent that they just copied the chapters over word for word.
.
And the Top Astrologer Is…
.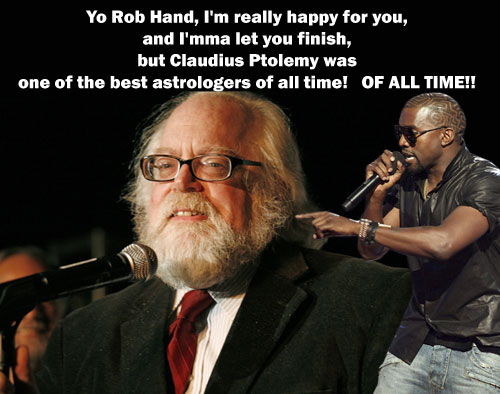 .
1. Claudius Ptolemy
By far the most towering figure on this list is Claudius Ptolemy, who was a 2nd century polymath who lived in Roman Egypt. Ptolemy wrote influential works on astronomy, geography, music, optics, and astrology.  His goal was to create a unified system that tied together all of the different scientific fields.
His eminence as an astronomer led later generations of astrologers to take his astrological work very seriously, and within a century or two of his death his textbook on astrology, usually known as the Tetrabiblos, became extremely popular.
Ptolemy's astrological work is interesting from a historical perspective because he appears to have been a bit of a reformer, who was trying to place astrology on a more solid scientific footing by providing it with what he saw as a more consistent theoretical and technical framework.  One of the major technical changes that he was successful in advocating was the adoption of the topical zodiac, while one of the major conceptual changes that he instituted was the viewpoint which held that the planets act as causal agents which bring about what they indicate astrologically, rather than simply acting as signs or omens of future events.  Ptolemy's naturalistic view of astrology was part of a complete cosmological package that became the dominant worldview for the next 1,000 years.
Ptolemy's Tetrabiblos is the only astrological text that was continuously transmitted and translated into different languages over the past 1,800 years since he wrote it, and for that reason he is undoubtedly the most famous and most influential astrologer of all time.
Honorable Mentions
Honorable mentions go to Yavaneśvara, Varahamihira, Abu Ma'shar, Guido Bonatti, Marsilio Ficino, Sepharial, Marc Edmund Jones, Alfred Witte, and Reinhold Ebertin.
Let me know who you think the top astrologers of all time are in the comments section below.
Article tags: Alan Leo, astrologers, Berossus, Dane Rudhyar, Dorotheus of Sidon, Masha'allah, Nechepso, Nostradamus, Petosiris, Ptolemy, Vettius Valens, William Lilly