Home » astrology news
CNN Confuses Astrologers With Psychics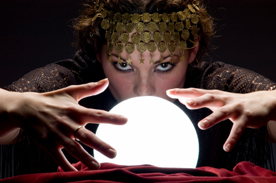 CNN has been running a story today about how the difficult economic times have seen a rise in business for "psychics" and "fortune tellers".   The majority of the segment focuses on an interview with an astrologer named Randy Goldberg, although for some reason they later transition into talking about the 'American Association for Psychics' and how there is currently a "psychic business boom".
CNN has done lame astrology related stories in the past, but what is annoying about this one is that they are conflating astrologers with psychics, almost assuming that the terms are mutually interchangeable in order to label a broad spectrum of different types of 'fortune tellers'.
The problem with this is that the vast majority of astrologers don't claim to be psychics, and most psychics aren't trained as practicing astrologers.   Even though there may be individuals from both camps who say that they can do both, that doesn't necessarily mean that there is any direct relation between the two fields.
Astrology is a highly complex technical construct that is designed to determine information about the future, whereas psychics claim to have a sort of innate intuitive ability to do the same thing.  Even though both astrologers and psychics are ultimately attempting to predict the future, that doesn't mean that their roles or techniques for doing so are interchangeable.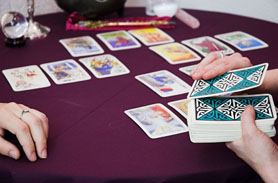 It is somewhat ridiculous for CNN to feature an interview with an astrologer, and then to launch into a statement from from the American Association for Psychics about how business is booming.   The analogy would be like interviewing a public university professor and then trying to tie that into a statement from a homeschooling union.
Now, obviously the astrologer who was being interviewed didn't help matters much when he whipped out a pair of divining rods towards the end of the segment, and he also lists a number of different types of unrelated New Agey services on his website such as 'healing sessions', 'chakra balancing', and 'past life regression'.   Still, I don't see where he calls himself a 'psychic' or an 'intuitive' anywhere on his website.
It's not really even clear to me that business is necessarily booming at the moment for astrologers as a result of the current economic crisis.  Sure, maybe the focus of individual consultations have become directed more towards financial matters, but most astrologers that I talk to seem to be struggling just as much as everyone else.
If you are a professional astrologer, then let me know if your own private practice has been "booming" lately as a result of the difficult economic times.
Thanks to Leisa and Patrick for the tip on the story, which surely they both found by using their innate psychic powers.
Article tags: astrologers, astrology in mainstream media, CNN, psychics, video clips