Home » astrology news
Astrology of the 2008 Election – Birth Data Problems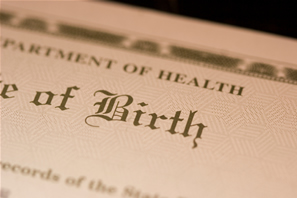 As I said in my previous post on Hillary Clinton's birth chart earlier this year, one of the biggest issues that astrologers are going to run into when trying to make predictions about the upcoming election is that birth data for the majority of the candidates is pretty scarce. Basically, we just don't have reliable birth times for a number of the candidates, and this information is quite important when casting charts and making predictions using horoscopic astrology.
That was the state of things earlier this year, and I had hoped that matters would have improved since then, but unfortunately the status of the birth data for the majority of the candidates is still a pretty dismal state of affairs. Recent events have led me to be a bit more skeptical about three of the candidates proposed times in particular, so I would like to address that issue briefly here.
Hillary Clinton's Birth Time
Earlier this year I attended the NCGR astrological conference in Baltimore where I sat in on a lecture about the 2008 election. Naturally during the course of the lecture the point came up that the birth data for many of the candidates is either nonexistent or highly ambiguous. At one point the subject of Hillary Clinton's natal chart came up, for which there are several different proposed birth times with different sources, and there was a discussion about which chart was the correct one.
Towards the end of the discussion about the different proposed birth times an older woman who was sitting off to the left hand side of the room stood up and stated quite calmly and sort of mysteriously that Hillary was born at 8:02 am, and that the Scorpio rising chart was the correct one. The unusual air of calmness and conviction about the woman kind of struck me as interesting, and I quickly jotted down the time. When I had done some cursory investigations into Hillary's birth chart the previous fall I had come to the conclusion that the Scorpio rising chart was likely the correct one, although I was still perplexed to hear this woman state a precise time with such assurance, almost as if she had some sort of inside information.
As chance would have it, a couple of days later, after the conference had ended, I was just checking out of my room and walking out to the car with my friends when I happened to run into the woman by the hotel elevator. I was still really curious why she was so confident about Hillary's birth time, so I asked her about it. Although I can't remember the precise words she used now, she basically said something to the effect that she did have some sort of inside information and either she or someone she was close to had seen the birth certificate. She told me that someone had once told Hillary something bad about the sign Scorpio, and that was the reason why Hillary didn't want to confirm the actual birth time, and that is why there are so many different birth times floating around. She seemed quite sincere about it, and I was kind of excited to get this sort of inside information. I thanked the woman for sharing this with me and asked her what her name was. She said that her name was Frances McEvoy.
Obama & Romney's Birth Time
A month or so ago I received an encouraging email from a reader of my blog who was interested in hearing more about my take on the US election after seeing my successful prediction about the French election earlier this year. I began looking into the US election again to see if any astrologers had been able to get more reliable birth data on some of the candidates. I was looking through AstroDataBank and I noticed that there was solid birth time for Mitt Romney of 9:51 am, although I was slightly surprised to see that it came from the same Frances McEvoy that had given me the birth time for Hillary. According to ADB Frances McEvoy "quotes him", which presumably means that she met him at a campaign rally at some point in the past year and asked him his birth time directly. While it was great to have a birth time for another one of the leading candidates in the election, for some reason I felt a bit uneasy about the fact that I was now relying on one astrologer for the data on two of the candidates.
Later in the same week I began asking around to see if anyone knew who the source of the 1:06 pm birth time was for Barack Obama. I came to find out that, according to one website, the 1:06 pm time
was relayed by astrologer Frances McEvoy to astrology newsgroups, and supposedly originated from Obama's own memory when he was asked what time he was born during his New Hampshire visit.
That's right. The source for our birth data on three of our candidates comes from the same person. Unfortunately, I never got a chance to ask Frances about this because a few days after I realized that she was the source for these three candidates data, she passed away. On December 10th actually.
Now, I'm not trying to say that Ms. McEvoy was putting out faulty data, but only that the circumstances were kind of unusual in that she was the main source for birth data on these three candidates, and there could be some issues involved with that.
According to another astrologer I know named Robert Blashke she was also the original source of the birth time for John Kerry prior to the 2004 election. From what I can tell from the AstroDataBank records, Frances was originally told by Kerry's mother that he was born sometime around "sunrise". Having only a general notion that Kerry was born sometime around sunrise she then seems to have played with the time a bit in order to come up with what she felt was a plausible ascendant, and she submitted it to AstroDataBank as an exact time of 7:10 am. Later Blashke actually spoke with Kerry's sister-in-law by his first marriage, and she gave him an exact birth time of 8:03 am, which was nearly an hour later than McEvoy's rectified time.
So my point here is that we don't know at this point, or I don't know, if the times given to Frances McEvoy for Clinton, Obama and Romney were exact times straight from the birth certificate, or if they were general times like Kerry's which she then 'rectified' or adjusted somehow. When dealing with some of the more precise techniques that I work with, such as the 'lots' for example, even the slightest changes in time can really alter the entire character of the birth chart and any predictions that might be based on it. Even in Obama's case, more precise techniques aside, the Moon is in a completely different sign if he was born just a few minutes before the 1:06 pm birth time.
John Edwards' Birth Time
Interestingly enough, there are some issues surrounding John Edwards' birth time that are somewhat related to the previous issues surrounding Kerry's. The currently accepted time for Edwards is 7:02 AM based on what some anonymous staffer as well as his mother said on different occasions. However, according to the original entry on AstroDataBank
On November 4, 2004, PT talked with Sat Siri Khalsa who says that she attended a political rally in which she was able to slip a note to Elizabeth Edwards asking for the candidates' birth times. Sat Siri says Elizabeth Edwards smiled, walked over to the candidates and came back with the note on which Mrs. Edwards had written that John Kerry was born between midnight and 1 AM and that John Edwards was born at 7:23 AM.
This source gives us a birth time that is about 21 minutes later for Edwards than the other two sources are. Notice though that this was one of the original sources for Kerry's birth data, but the time given is totally wrong according to the later established data for Kerry having been born around sunrise, or at 8:03 am to be exact. It would seem logical that this 7:23 birth time should just be discarded as a bogus source due to the previous discrepancy with Kerry's time, although as it stands now this is still 'C' data on AstroDataBank since there are inconsistencies between the sources and the accuracy of the time is still in question.
Birth Times for Giuliani, McCain, Richardson, and Biden
Apparently we are in somewhat decent shape with Rudy Giuliani due to an 'anonymous' source that wrote in to AstroDataBank in late 2005 with a 2:30 pm birth time, supposedly from Giuliani's mother. ADB was apparently confident enough in their source to list this as 'A' data, or 'from memory', but it still seems kind of sketchy. I guess that it is better than nothing though, and it could be in the ballpark even though it is clearly a rounded time.
Pat Taglilatelo from AstroDataBank says in a recent article in the December/January issue of the Mountain Astrologer that she has a copy of Bill Richardson's birth certificate 'in hand', and his birth time is 11:35 am.
According to the same article, Joseph Biden's birth time is 8:30 am apparently. This comes from Marion March, who got it from someone else named Celeste Longacre, who says that it came from him in 'Welcome to Planet Earth', whatever that is.
John McCain's birth time is reported to be 9:00 AM according to staffers working for his campaign. The time obviously seems rounded, although we don't know by how much.
Birth Times for Paul, Huckabee and Thompson (or lack thereof)
In short, for Ron Paul, Mike Huckabee, and Fred Thompson we have got absolutely nothing in the way of verified birth times. Zip. Zilch. Zero.
Conclusions
With all of the confusion still surrounding the birth times of pretty much all of the candidates, it seems like we aren't in a much better position to make predictions about the final outcome of the upcoming election than we were a year ago. Our only real options are either (A) to get more astrologers trying to contact the candidates and their staff in order to get verified birth times, or (B) to attempt to rectify each of their charts individually. The former option seems like the most reliable thing to do, while the latter seems like the most tedious and unreliable option when what we need are exact birth times, although ultimately if we are still coming up empty handed a few months from now it may be our only choice.
Article tags: 2008 US presidential election, Barack Obama, Bill Richardson, birth times, Fred Thompson, Hillary Clinton, John Edwards, John Kerry, John McCain, Joseph Biden, Mike Huckabee, Mitt Romney, Ron Paul, Rudy Giuliani